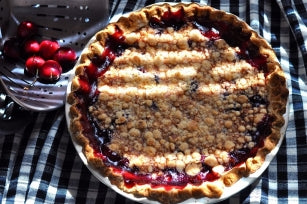 Ingredients
Prepare dough and line 9-10" pie plate with pastry.
4 cups red tart cherries
1 cup granulated sugar
2-tbs. cornstarch blended in ¼ cup juice
½ cup brown sugar
1 tsp. lemon juice & almond flavoring (if desired)
Instructions
 Thaw cherries slightly. Pour cherries and juice into 3-litre saucepan. Reserve ¼ cup juice and blend with cornstarch. Add sugar, lemon juice, food coloring and cornstarch mixture to cherries. Cook gently, stirring constantly on medium- high heat, until mixture is thick and glossy, be careful not to break fruit. Pour into unbaked pie shell.
Sugar Topping: 1/2 cup pastry flour, 1/2 cup brown sugar & ½ cup butter
Combine flour and sugar. Work butter into mixture until crumbly. (butter works best when slightly soft, but not melted). Drizzle evenly over cherry pie filling. Bake 35-40 minutes at 350F or until pastry edge is golden brown and cherries are bubbling slightly through the sugar crumb topping.