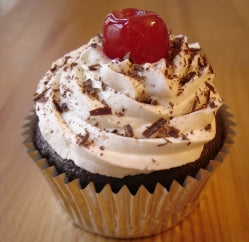 Ingredients
1 (18 3/4-ounce) package chocolate or vanilla cake mix
3 eggs
1 1/3 cups water
1/2 cup vegetable oil
1 (21-ounce) can cherry filling and topping
1 (16-ounce) can chocolate or vanilla fosting
Instructions
 Prepare cake mix according to package directions, adding eggs, water and oil. Pour batter into 24 paper-lined muffin cups, filling two-thirds full.
Remove 24 cherries from cherry filling; set aside.
Spoon a generous teaspoon of remaining cherry filling into the center of each cupcake.
Bake in a preheated 350-degree oven for 20 to 25 minutes. Remove cupcakes from pans. Let cool completely.
Frost each cupcake with chocolate or vanilla frosting. Garnish each cupcake with reserved cherries.
Makes 24