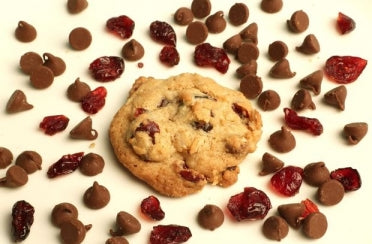 Ingredients
1/2 cup unsalted butter, softened
1/2 cup packed light brown sugar
1/4 cup plus 1 tbsp granulated sugar
1 Large egg
1 Tsp vanilla extract
1 cup unbleached all-purpose flour
1/4 tsp baking powder
1/4 tsp salt
3/4 cup old-fashioned rolled oats
3/4 cup dried tart cherries
1/2 to 3/4 cup chocolate chips
1/4 tsp baking soda
Instructions
 Preheat oven to 350F and position oven rack in centre of the oven. Line 2 baking sheets with parchment paper.
Place butter, brown sugar and granulated sugar in a bowl and beat on medium speed until smooth and blended. scrape down the bowl with spatula. Add the egg and vanilla, blend well.
In a medium bowl, whisk together the flower, baking soda, baking powder and salt. Add to the butter mixture all at once. Mix on low and blend slowly, just until there are no more patches of flour. Scrape down bowl.
Add the oats, cherries and chocolate chips, blend on low just until combined.
Use a spoon to portion tablespoon-size mounds onto the backing sheets, spacing them about 2 inches apart. Bake for 10 to 14 minutes or until golden brown at edges and still a bit pale in the centre.